September 6, 2023
Four years ago, I was uncomfortable with the representation from Precinct 11 and decided to run for office with my husband's support. After that election, I have been grateful to those who supported me and to those who didn't, but challenged me to look at other information and other perspectives. I won the 2019 election with 701 to 132 votes.
I have been a long-time member of the West Barnstable Civic Association, West Barnstable Historical Society, Friends of Barnstable Harbor, West Barnstable Village Festival Committee, Barnstable Land Trust, among other groups. Being a longtime volunteer in our town, I am responsive to constituents' concerns, often going to various town offices to address issues, especially for Precinct 11 residents. Constituent services are important to me and I have addressed residents' calls and email messages regarding zoning, safety and security among others.
Having worked for the Town of Barnstable as a shellfish propagation technician, and being a deputy shellfish officer, I am experienced with how to access town resources for the benefit of my constituents.. Working for the town back then in the 1990's and 2000's, I initiated the Town's Shellfish Volunteer program which continues today.
Aware of the local needs and concerns in West Barnstable, I have been able to successfully lobby for a generator for the West Barnstable Community Building, given that West Barnstable does not have a public water supply, nor does it have municipal sewerage for wastewater. The hope is that this town-owned building could someday serve as a comfort station when we have extended power outages. Also, at my timely request, I have been able to secure funds for a new flag pole for our West Barnstable Village Green, after our volunteer flag custodian pointed out how the fiberglass pole was rotting through. Working towards sensible, problem-solving solutions is what I have committed to do as an elected official in our town.
As councilor, I have attended informational meetings to help educate myself on agenda items before the town council so that I may cast an informed vote. I also look for programs that the town does not have on the books, but that the state allows, like successfully introducing the Veteran Tax Work-off program and along with it, an increased amount for which a qualified Senior Citizen can also Work-off. These programs that enable property owners to reduce their property taxes by up to $1500. These programs have been offered by the State, and I learned about these changes from various workshops and webinars that I have taken the time and effort to attend. I realize that to be fully informed, I need to go out and get information and not just wait for the information to drift to me.
When it came time to vote on a controversial Form Based Zoning package, and after I studied the lengthy document, I attended a 3-hour meeting last December with other councilors (under a quorum) and Planning staff members along with Felicia Penn, whose knowledge in planning and zoning in the Hyannis area resulted in 10 amendments attributed to me to the complex changes to improve zoning in downtown Hyannis. I have watched a recent meeting of the Planning Board and was pleased to hear that the changed zoning is working to convert some of the derelict property in the downtown area to new, fresh proposals for an improved community in the heart of our Town.
I serve as the town council liaison to the Sandy Neck Board, Zoning Board of Appeals, Old King's Highway Historic District Committee and the Open Space Committee, formerly known as the Land Acquisition and Preservation Committee. Working prior to COVID with Councilor Rapp-Grassetti, we realized that the language in our town's Code had some stale references and needed some updating and renaming. We worked together with town staff and the chair of the now Open Space Committee to update the language and successfully updated that part of the Town's Code that gives authority to the committee.
I regularly attend the board and general membership meetings of the West Barnstable Civic Association to listen and understand the local conditions and concerns. When there are items of local and town news to share, I send out a periodic e-newsletter. You're welcome to sign up for them if you are interested. I am a regular volunteer for the Council on Aging's Brown Bag program, which delivers a brown bag of pantry and other food items on the first Friday of each month and I've recruited new volunteers for this noble program.
Being the oldest of six kids in our family, I know well how families struggle to balance their busy lives. Now that I am retired and without kids, I have the availability to be able to dedicate to various town concerns and take action for resolution, supported with updated and accurate information.
I have made a commitment to my community to make it our best and continue to communicate information for the knowledge of our residents and to improve conditions for not only the residents in my precinct, but also all the residents of Barnstable.
I will appreciate your vote on TUESDAY, NOVEMBER 7, 2023 when Polls are open from 7 a.m. – 8 p.m. The last day to register to vote is October 27th (online by midnight, in person by 4:30pm).
Kris Clark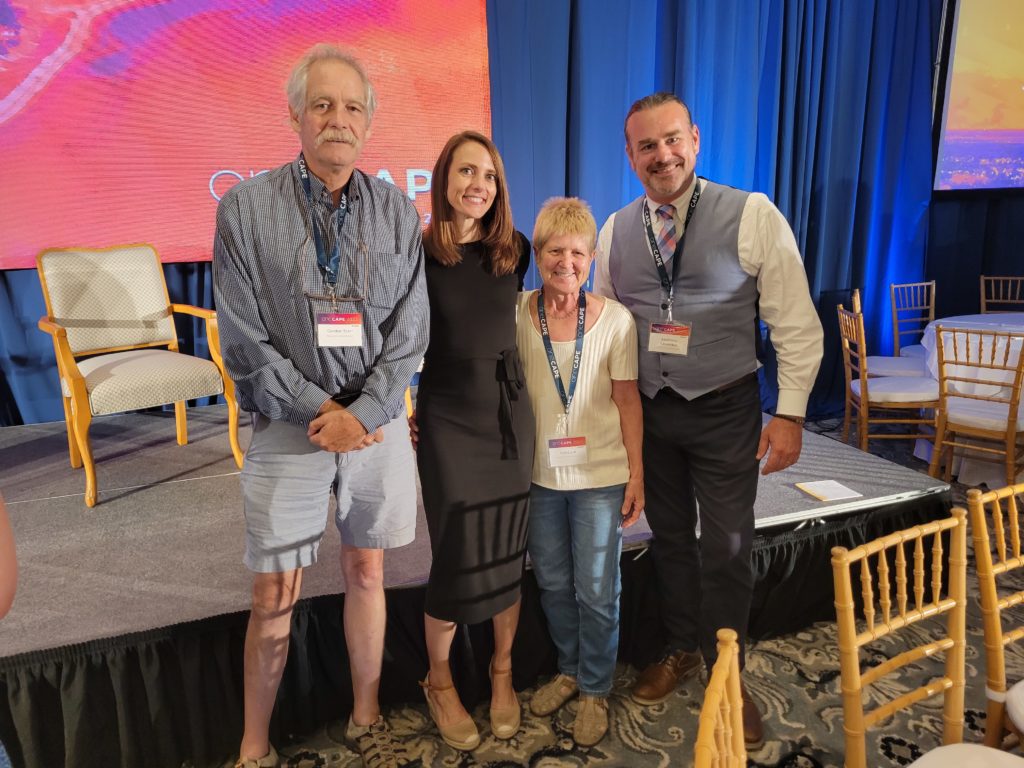 Open Cape Summit 2023: Town Councilor Gordon Starr, Town of Barnstable Director of Planning and Development Elizabeth Jenkins, Kris Clark, Town Councilor Matt Levesque