Kris is on the move. Scroll down to learn about upcoming Stand Outs & Media Events. Also, don't forget to sign up for Kris's newsletter at the bottom of the page.
---
Also, check out Kris's profile published by local online news media outlet "Patch".
Barnstable Candidate Profile: Kris Clark
---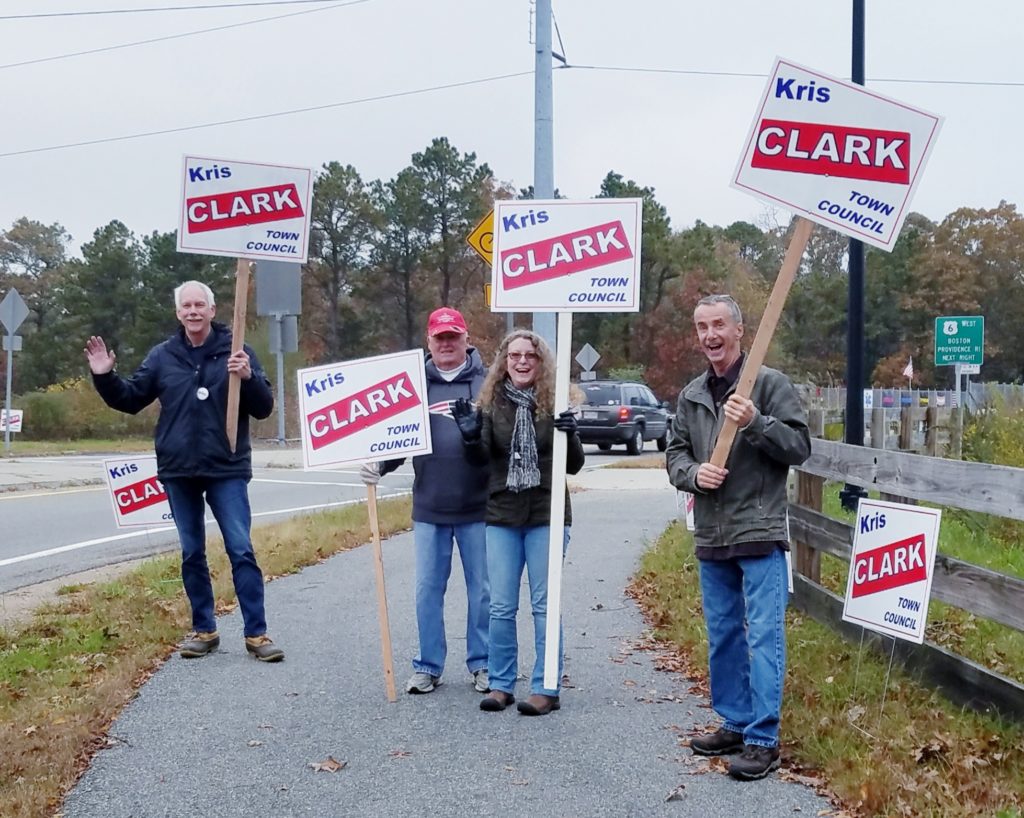 Stand Outs
Please show your support for Kris by "standing out" or by a friendly wave and honk as you pass by.
Here is the current "stand out" schedule for Kris Clark.
Wed 10/30 – 4PM – Corner Old Stage/Race Ln & Oak St Centerville
Fri 11/1 – 4PM – 6A & 149 (across from 7G's)
Sat 11/2 – 9AM – Exit 5 Rotary
Mon 11/4 – 7:30AM Route 6A & Route 149 (7G's Plaza) Park near the cemetary
** We stand for 1 – 1.5 hours each date **
Tue 11/5 – ELECTION DAY!!
Polls open 7AM – 8PM
If you are available to hold signs outside the West Barnstable Community Building please call or text Katrina @ 774-836-6385.
Any time that you can spare will be greatly appreciated.
Again, call or text Katrina if you have any questions 774-836-6385.
---
Media Events
Sunday, November 3rd @ 10am – 11am
First, tune in to hear Precinct 11 Town Council challenger Kris Clark converse with incumbent Phil Wallace on FM 95.1 Newsradio WXTK hosted by Patrick Desmarais.
Next, call in and engage in the debate between these two town council candidates. The number to call is 508-775-9985.
For More Ways to Support Kris Clark
Visit our Support Kris Clark page, or sign up for our newsletter.